Services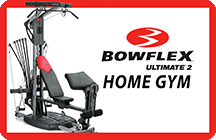 We are flexible with the customer's needs and schedules. Our goal is to make the user happy with our services, and the performance of the equipment that we assemble and service. We deliver, assemble, and repair all brands of sports equipment, and we also perform warranty work. We are the technicians that come to your home to service all BowFlex products.
Services that we offer
Services that we offer include all aspects of sports equipment. We offer these services to large retail companies, Gym & exercise facilities, and individuals who purchase exercise equipment for personal use.
We offer:
* Delivery
* Assemble and set up
* Repair
* Routine maintenance
* Equipment relocation
Other services
We also repair and maintain many DVD rental kiosks in the Redding area that are owned by DVD Xpress. Each kiosk has 300 movies that are remotely controlled from a center in South Carolina. When things go wrong mechanically or electronically, DVD Xpress calls us for service that I provide within 24 hours.
Companies we work with
We are an independent contractor, and we work with many companies to promote customer satisfaction. On the right side of the page are a few companies that we work with.


Companies
Go Configure
1001 Warrenville Rd. STE 110
Lisle, Il. 60532-1392
630-893-7200
gciteam.com
DVD Xpress
1072 S. Batesville Rd. Unit B
Greer, SC. 29650
1-877-385-8500
mydvdxpress.net
OnForce
10 Maguire Rd.
Building 2, Ste 232
Lexington, MA. 024211
1888-515-0100
onforce.com
Op-Test
4712 Mountain Lakes Blvd. #200
Redding, Ca. 96003
1-888-870-4211
op-test.com
We work closely with Op-Test to build all types of printed circuit boards and assemblies for various companies throughout the world.