About Us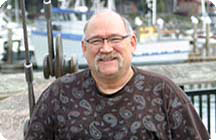 Dave Boutte
I have always had this curiosity at a young age about how mechanical/electrical things work. I have fond memories of watching my dad work on TV sets in the 60's. I used to get in trouble for taking things apart, sometimes being able to put it back together. My love has always been electronics, which is my lifetime career.
Why I started
I used to sell treadmills at Sears, when it was slow, the manager would ask some associates to put together a treadmill for display. I enjoyed that and I was the only associate that didn't have spare parts. I decided to become an independent contractor. I have companies hire me to do deliveries, assemble and repair all kinds of sports equipment. I enjoy helping people and am more than willing to help people with their problem equipment.
Experience
8 years experience delivery, assembly and repair of sports equipment.
30+ years experience in electronic repair, fabrication and design.


Customer reviews
January 2016
Fair Price
"I call Dave whenever my treadmill has an issue, he fixes it in a timely manner and charges a very fair price." Lisa B.
January 2016
Free Estimates
"I wasn't sure if my elliptical was worth fixing, Dave came over and gave me a free estimate"
Mark P.
January 2016
Highly Recommended
"I bought a Marcy Combo Smith Machine from Dicks. I got it home, opened a couple of boxes and realized the complexity of this project. I'm sure it would have taken me all weekend to assemble correctly. I called Sum Assembly Required, Dave came over and assembled my smith machine in 6 hours. He even got rid of my old treadmill. I would recommend Dave for any assembly job.
Mikel H."